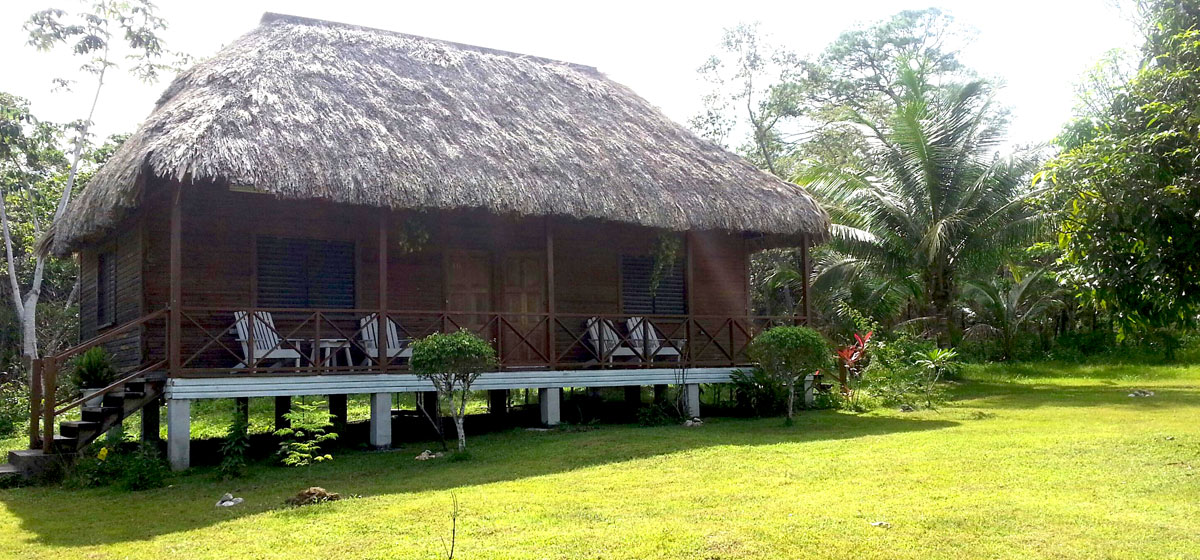 Nature Resort offers a quiet, comfortable, and relaxing place to stay and enjoy nature with the black howler monkeys (locally known as baboons). The property is nestled in a rainforest with abundant leaves, flowers, and vines the monkeys love to forage on. At the Resort you are guaranteed to see monkeys close up and if you come during the months of January to June, you can see them from the balcony of your cabana. Many birds nest and feed around the cabanas including parrots, jays, seed eaters, oropendola, and kiskadee. You can also venture on one of our nature tours.
Nature Resort is located in the Community Baboon Sanctuary (CBS), along the historical Belize River Valley. It is 26 miles from Belize City, just off the road as you drive through Bermudian Landing, and half a minute from the CBS Museum.
We are sixteen miles away from the international airport so many tourists who include Placencia and other Southern or Coastal destinations in their visits to Belize stay at Nature Resort for a few days or a week at the beginning or end of their visits. Shuttles to and from the airport can be arranged in advance.
Nature Resort is a family owned and operated business since 1996. The family of Mrs. Drina Young and Mr. Alvin Young was the first to offer bed-and-breakfast to researchers (e.g., Dr. Robert Horwich) and visitors to the Sanctuary since 1984. The family was well known for its Belizean cuisines and friendly management. Nature Resort continues to provide a variety of Belizean and Caribbean cuisines and has expanded to ten comfortable rooms most of which have AC and hot and cold showers.
Nature Resort is currently managed and owned by Dr. Roy Young, son of Drina and Alvin. Dr. Young grew up on the site and can tell you about the history of the region, local attractions, flora and fauna, and tours, and can answer any other questions that you might have about other parts of Belize that you may be travelling to. Trained at Cornell University, he has been an educator for many years in Belize, and has conducted research here on agriculture, education, children and youth, natural resources, health and other issues.
We encourage you to "Come nest in nature"