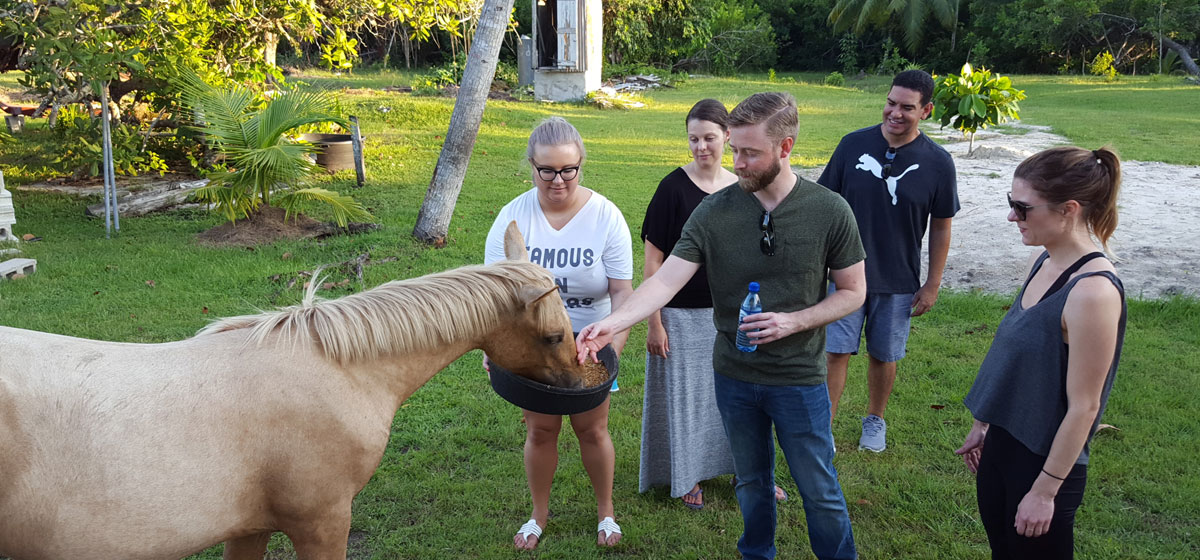 We offer several interesting tours to keep our guests awing and wanting more. Our well trained guides give guests the opportunity to take spectacular pictures and gain experience to take back unforgettable memories. Tours are usually personalized and are done in small groups to most effectively cater to everyone's needs and desires. We offer customized packages for families and other groups.
Our tours are done inside and outside the Community Baboon Sanctuary. Our most popular tours are the Nature Tour, the River Tour, and the Crocodile Tour. Tours outside the Sanctuary include the Maya ruins of Altun Ha and Lamanai, the Belize Zoo, Old Belize Museum, ziplining, cavetubing, and waterfalls.
River Tour
(2 persons minimum)
With Tour Guide $30.00 p/p
Our River Tour is one of our most popular tours. On this tour we transport you to Double Head Cabbage which is the next village west of Bermudian Landing (one and a half mile away). You then get in a canoe with a guide who explains the history of the river and the villages and discusses the many flora and fauna seen as you float down the Belize River. On this tour you are guaranteed to see many troops of monkeys, a lot of iguanas, many different colorful birds and if you are luck you might see a tapir (the national animal) and a toucan (the national bird). It is a very tranquil experience as you interact only with nature for 2 1/2 to 3 hours.
Cultural Tour
Three hour tour in four communities $50.00 p/p
Belize Zoo
Canoe Rental
Half day $40.00
Full day $50.00
Crocodile Tour
(This is a night tour)
With Tour Guide $60.00 p/p
The Crocodile Tour is an exciting night tour. We transport you to Mussel Creek (approximately three miles away) where you board a canoe with a guide. You then sit quietly and observe the eyes of crocodiles as the guide points them out to you. He then steers your canoe to get close up to the crocodile. Our guide, Mr. Wallingston Russell, known as Crocodile Dondee II, is usually able to temporary put a small croc in your canoe. This tour is for two to three hours.
Altun Ha Maya Ruins Tour
(2 persons minimum)
Include entrance fees and snacks $60.00 p/p
Lamanai
Including boat ride, lunch, snack,
entrance fees $90.00 p/p
Night Hike
With Tour Guide $10.00 p/p/hr
Camping
Nature Tour/ Community Baboon Sanctuary
With Tour Guide $7.00 p/p
The Nature Tour is a must because you get to see the Howler Monkeys close-up. On this tour the guide shows you several behaviors of plants and animals. For example, you see leaf-cutting ants (wee wee ants), sensible weed plants (twelve o'clock prickle), tattoo plants, strangler fig, etc. The highlight of this tour is when the guide finds the monkeys and calls them to come down from the tree for you to see them close-up and take pictures with them.
Bird Watching
With Tour Guide $25.00 p/p/h
Horseback Riding
(2 persons minimum)
$25.00 p/p per hour
$125.00 p/p per day
Crooked Tree Bird Sanctuary
Our half-day and full-day tours are inclusive of entry fees, guides, transportation and lunch where applicable.
Prices are quoted in US Dollars and do not include taxes.